When you need to pack up and move you can choose to do everything yourself or to hire professionals to help you out for all or some of the process.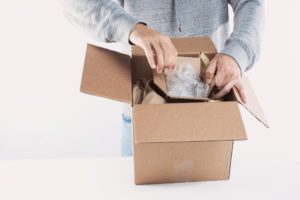 To save money you might consider doing the packing and unpacking of items yourself or with the help of some trusty friends and family.
Before you commit to doing it all on your own though, here are some pros and cons to consider.
The Pros
The biggest pro of self-packing (and the reason most people decide to try it is) that it can save you money. And if you only have a small amount of items to move which aren't too bulky or precious it can certainly pay to do the packing yourself.
When you pack yourself you have total control over the organisation process which can be helpful if you have a certain way you want your items organised or packed. You decide what goes where and exactly how the items are wrapped or protected.
Packing yourself also means you can pack at whatever time is convenient to you. If you get the urge to pack late at night or in the early hours of the morning, you can choose to do that.
The Cons
Relying on friends and family to help you move can cause some issues. For instance, there can be more breakages that occur during packing – you can't expect your friend and family to know how to pack your items in a professional way. Some of them might never have packed up items before.
You might also find inconsistent packing and labelling of boxes when you rely on free help. This can lead to time delays and frustration during the unpacking process.
There's no doubt that packing yourself takes longer and can be more stressful too. As the homeowner you become the project manager of the process – meaning you'll have to organise everyone, make sure they have the packing materials they need and, most importantly, make sure they stay on task.
Hiring Professionals
If you have the budget to hire professionals to help you pack, it can be worth your while.
Having professionals to do the job will give you peace of mind, reduce your stress and will definitely save you time. There's also likely to be less breakages as professionals will handle your delicate items with care and experience.
If you're worried about the cost, you can control it by having the professionals focus on the time consuming areas of the house where there's lots of fragile items (such as the kitchen) rather than having them pack up the entire house for you.
Hire A Packer offers a flexible and professional packing service, tailored for you.You can hire our professionals to help with packing, unpacking or both depending on your needs and your budget. All your items will be bubble or paper wrapped for maximum protection and grouped together by room, clearly labeled in boxes for quick, easy moving and unpacking.
When you book with Hire A Packer, you will also be provided with a 10% discount code to use with Hire A Box. You can then hire or buy boxes and also purchase the other packing materials required such as wrapping paper, tape rolls, and bubble wrap.
For more information on how we can help you with your move, get a quote or call 1300 366 522 today.