Moving to the U.S.: A Quick Guide to Finding the Right Apartment (And Settling In, Too!)
You've made up your mind. You're saved up and are moving to the U.S. Now it's time to find the right apartment! If you haven't had an opportunity to look for flats in person, or even if you have, it can be a daunting task.
With the right services and resources at your fingertips, finding a great place on the other side of the Pacific can be easier, and way less stressful, than you think. Here are a few tips for finding your next home:
Do some online research: Once you know where you'd like to relocate specifically, compare rental prices in the city. There are a ton of resources available for apartment shopping on the internet.
For example, you've decided you're moving to California and are set on beautiful Marina del Rey. A quick search for Marina del Rey apartments will show you apartment homes available in the area, cost comparisons, details about amenities, and more.
Reach out to management: After you've narrowed down your possibilities, phone the leasing agent. When you reach out directly, you'll find most property managers are more than happy to help you relocate smoothly.
Verbally validate things like application fees, deposits, pet policies, and parking. You can find details online about nearby public transport, schools, etc. Still, your potential new landlord lives and works there, and probably has additional useful information.
You'll also have the advantage of getting recommendations from a local for things like nearby shopping, nightlife, dining, and other recreational features of your new city.
 Get your financial ducks in a row: When applying to rent in the U.S., most leasing agents require a credit check to establish your financial reliability. Credit reports will show a history of payments on credit cards, student loans, prior leases or mortgage payments, etc.
Most moving from abroad don't have a credit history in the U.S. This is another time when speaking to your potential new landlord is essential. Let them know your circumstances and ask if, in place of a traditional credit report, they'll accept certified letters from your lenders. People like your former landlords, your bank, and whoever else can vouch for you can help build a case for your financial responsibility as well.
Get the day-to-day details: If you've made it far enough in the process that you're searching for an apartment, chances are you've established things like how to navigate your citizenship options, obtaining a work visa, and the logistics of how you'll actually move your belongings from point A to point B.
You'll also need to know practical things about how to get set up in your new place. Find out about local wi-fi, cable options (if you plan on getting cable tv), and information about utilities.
Often, apartment complexes foot the bill for water, utilities, and waste removal, but you're expected to pay electricity. Some have begun providing free WiFi for renters. Some do none of these things. That's why it's imperative to find out beforehand to avoid any unpleasant surprises upon your arrival.
Coordinate the project: Now that you've narrowed down a list of apartments you'd like to have a look at, it's time to establish how to do that most practically and cost-effectively. Meaning: how to time it so you can find the perfect place, send for your stuff, and settle down ASAP.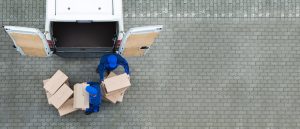 Committing to a place without looking at it in person isn't recommended. Not only do you run the risk of finding out when you get there that it's not at all what you thought it would be, but you're also vulnerable to things like rental scams. (More on that in a minute.)
Assuming you don't know anyone in the area to stay with, find a hostel and camp out for a few days while you get your apartment. It'll also give you time to get your affairs in order and wrap up the move.
Watch your back: It's unfortunate, but there are plenty who take advantage of people looking to rent an apartment, especially those from abroad who may not know the ropes yet.
Do your homework, and beware of rental scams. If something feels shady, it's always good to trust your gut. A best practice for avoiding scams is to use an apartment search website that verifies its listings come straight from property management companies.
Hunting for a great apartment is so exciting, especially when embarking upon the adventure of moving abroad. Some organization, proper communication, and the tips in this article will help alleviate some of the stress involved, and provide you with more time to focus on the fun!