Moving is a stressful business, but luckily we have just the ladies to make your life that little bit easier. The Hire A Packer team have helped many homes around Sydney, not just to pack up their possessions, but to get them settled at the other end and keep them sane in the process! Nicole is part of the Hire A Packer team, she talked to us about getting the most out of the packing service and the best way to pack coral…
Please introduce yourself…
My name is Nicole, I'm 47 and I have three children.
How long have you been part of the Hire A Packer team?
I started in September last year.
Which areas of Sydney do you cover?
At the moment all of it! The whole city – I'll travel anywhere.
Aside from helping people with packing, what else do people use your services for?
I find a lot of mothers with young babies or toddlers want us to organise their home for them. It's not just unpacking, sometimes they don't have the confidence to organise their artworks, their kitchens or their bedrooms. Often they're lacking time and energy as well. People become really stressed with the whole moving thing, they really really do. You can sense their tenseness and their stress levels are just enormous! So we chat to them a little bit and then we try to sort out everything for them so they don't even have to think.
Do you find that end up looking after a bit of both the logistical and the emotional side of moving – because it is a really stressful thing for people to organise!
We try and keep everything as logical as possible, but some ways we are like a counselling service; telling them it will all be fine in just a few hours, and not to worry. Also to call us back if they need us once they get into their new place. So that they can function and get back into their routines as soon as possible – sometimes you just need to hear that it will all be ok! Most people don't react that well to moving at all, they worry that it won't get done and nothing will be ready. It's also about keeping their things safe, things that are really precious to them even if they only cost 50c. It's about respecting their property and looking after it in the best possible way to move it carefully, that's how I see it.
For anyone using your packing services, what is the best use of the time they have with you?
Definitely the kitchen, because that's where people lose confidence. And they've got a lot of valuable appliances,wedding gifts and that sort of thing in there. So we find that we spend 75% of our time in the kitchen, and usually 75% of the boxes are used to pack the kitchen as well. But for unpacking we can actually do the kitchen quickly, so it's more setting up their bedrooms. People tend to get stumped with reorganising drawers and wardrobes, but you want to get everyone settled in for the night.
What's the question you get asked the most about the Hire A Packer Service?
The most common question is usually during the pack, people often ask "Do you unpack as well?".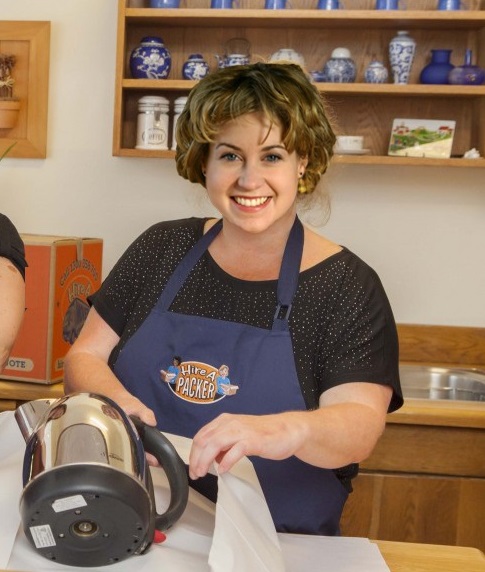 Have you ever had to pack up anything really unusual?
Luckily I haven't had too many hoarders, but I've wrapped really unusual statues. Those things maybe need some extra bubblewrap, but we're never daunted. We work in teams so we'll figure out whether we use towels, or bubblewrap – or a doona! We also wrap a lot of coral, which is so fragile, but so far we haven't had a breakage.
When is the best time to get packing if you are moving?
Realistically you have to live through the whole experience, so if the move is happening on say a Saturday, then I would suggest that it's best to get us in on the Thursday. At least two days before, then you only have a couple of nights living on takeaways.
Lastly, what is your top tip for a smooth move?
To plan ahead and to clear out as many unwanted items as possible weeks before! So many people pay for our service, but we end up wasting our time and their money packing up things that they'll just throw out at the other end. Declutter! Get clothes off to charities and pass your plastics to neighbours, or just throw it in the bin.